Texas Children's Hospital Visit - December 4th
Tuesday, December 4th, 2018 - 10:00 to 12:00 CST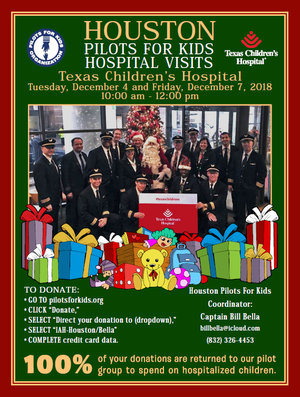 Join us for our annual visits to the Texas Children's Hospital. There are two visits scheduled this year, on December 4th and 7th. Please RSVP to one visit to Bill Bella, IAH Coordinator.
As always, 100% of your donations are returned to our pilot group to spend on hospitalized children.
Donate directly to the IAH group here.
Dress Code: Full Pilot Uniform - Jacket and Hat.
Get Directions: 6621 Fannin St, Houston, TX 77030
RSVP: Contact Bill Bella using information in upper left hand corner (call, text, or email).